We want to thank everyone so much for making our 27th Dream Cottage such a great success – we have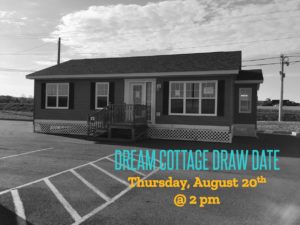 never sold out this early before! By buying tickets, you support life-changing mentoring relationships that ignite the power and potential of Island youth!
Our staff has been working hard to get ready for the Dream Cottage Draw.  Since we sold out so early, we didn't want to wait until September.  We are in the process of preparing for the final ticket audit, so we have set the new Dream Cottage Draw date.   Someone is going to win the Dream Cottage on:
Thursday, August 20th at 2 pm
As always, the Dream Cottage draw will be open to the public, but to ensure everyone's safety, we will be employing social distancing measures, providing hand sanitizer, and keeping a contact log for the event.
Again, thank you so much for supporting the Dream Cottage – with your support, we have been able to continue to support Island youth when they need it most.  Good luck!!