Teams Needed!
Saturday, March 2nd & Sunday, March 3rd

Bowl for Kids Sake is an important community fundraiser for Big Brothers Big Sisters of PEI.  Each year, 250 teams work together to raise much needed funds – last year, you helped raise more than $128,000.
Participating in Bowl for Kids Sake is a great team-building event!  In addition to working together to reach a goal, your team has the opportunity to have fun while fundraising and celebrating your success.   And to top it all off, you'll be supporting programs which help local kids develop the confidence to achieve more.   Register your team today and help a child reach his or her full potential.   #MentoringMatters
May your blessings outnumber the shamrocks that grow and may trouble avoid you wherever you go!
As a thank you for your fundraising support, we will be throwing a fun St. Patrick's Day-themed Thank You Party, which includes:
75 minutes of free bowling
Treats from Tim Hortons
Pepsi Products
Great prizes
Raise $150 and you'll receive a BFKS T-shirt, a chance to win 1 of 4 Special Prize Package Draws, & 2 chances to win 2 tickets to anywhere Air Canada flies in North America! (includes Mexico, Hawaii, and the Caribbean)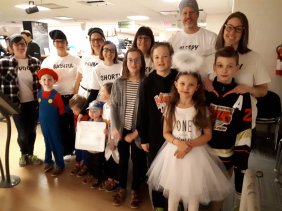 What's new this year
A new food sponsor – welcome to Tim Hortons!
5 new Prize Packages for people who raise $150 or more
New raffle ticket prizes including: One Night Stay for 2 at the Delta Prince Edward by Marriott & a $200 The Preserve Company Gift Certificate; 4 Feast Dinner Theatre Tickets from Brothers 2; Bonfire Package including Augusta Fire Bowl from Canadian Tire Summerside, 2 blankets from Giant Tiger Summerside & snacks from Leary's Independent Grocer; and Bose Soundsport Headphones from Staples Charlottetown
St Patrick's Day-themed Team Kit swag and prizes
More Costume Prizes
New on-line fundraising features to make setting up & using your account easier
For more information, go to our Bowl for Kids Sake webpage, call Mary at 902-368-7765 or Andrea at 902-368-7758 (1-877-411-3729) or email info@bbbspei.ca
To use On-Line Fundraising, go here to get started.
To support a friend or colleague who is participating, go here to donate.