Since 2019, the PEI Bag company has been providing bags for the participants of Bowl for Kids Sake.  Each year, they have ensured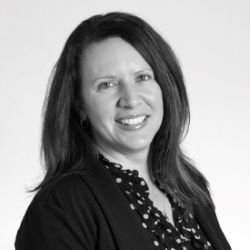 that the bags go with the different themes we've come up, like St Patrick's Day or the Roaring 20's.  The PEI Bag Co strongly believes in mentoring. We talked to Julie Murphy, who has been with the company since 2014 as the Controller and Secretary/Treasurer.  She took over from Brent Schurman, who retired after being with the company for 35 years!
When Julie took over, Brent made sure she was fully equipped for the job – even making himself available to answer questions after he was retired, now that is dedication! Along with the mentorship from Brent, Sandra Peters also made the whole onboarding process a breeze for Julie and still helps make her job easier everyday. Sandra knows the company systems like the back of her hand as she's been there for over 40 years. Julie credits a lot of the success to Sandra's help and mentorship.
Growing up, one of Julie's biggest mentors was her older sister. Being 10 years older, her sister was like a second mom.  She took Julie shopping and anywhere she wanted to go.  When she started out in her career as a bookkeeper, I always enjoyed going to the office with her and thought that I'd like to work in an office someday.  That's where it all started for me and I choose to get a Business degree at university and then become a chartered accountant.
Supporting children charities is really important for Julie and the team at PEI Bag Co. In fact, Julie has been part of a Bowl for Kids Sake team twice over the years.  The team at PEI Bag Co also feel it's important to give back to the community because their employees and customers live there.  They believe that giving back makes our communities stronger, which in turn makes their people and relationships stronger.
During the COVID-19 pandemic, the PEI Bag Co. felt it was extremely important to support people who were struggling by making donations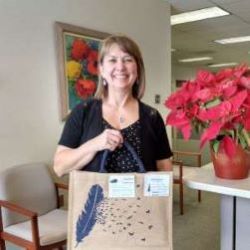 to Food Banks in the Maritimes. They are also regular supporters of Prince County Hospital Foundation, the QEH Foundation, and the United Way.  Over the years, they've also supported Hospice PEI, Make a Wish Foundation, Special Olympics and many other organizations. They recently donated bags to the Young Millionaire's program – providing students a means to carry their supplies.
Julie supports Bowl For Kid Sake because she feels "it is a wonderful fundraiser for a wonderful cause" and she was willing to take a risk on our brand new The Big Little Challenge Fundraiser this year, which raised more than $45,000!  We want to thank Julie and the whole crew at the PEI Bag Co. for their creativity and support over and for ensuring that we can thank our hard working team captains with a beautiful bag as part of their fundraising team kit. We can't thank you enough!
Up Next: we talk to Dave McInnis from Peake McInnis