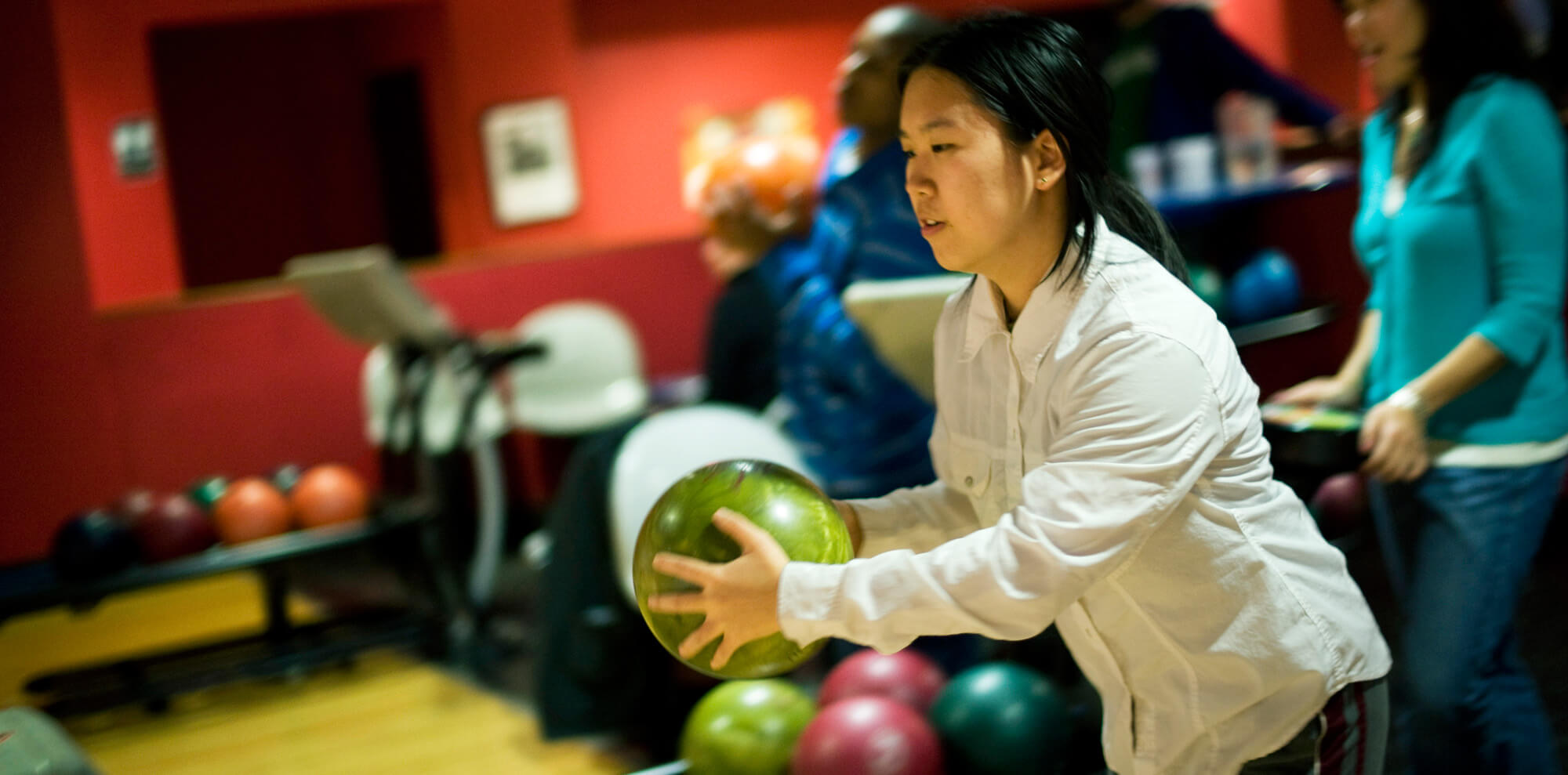 RAISE MONEY ON-LINE
Did you know you can raise money on-line? It's an easy way to raise funds with the help of friends & family near & far. Best of all, you'll receive twice as many Air Canada ballots & there are great prizes just for you!
Raise Money On-Line Or Make a Bowl for Kids Sake Donation
Prizes
To celebrate your fundraising achievements, we would like to thank you with some great prizes! There are a huge number of prizes for individuals, teams, team captains and volunteers provided by wonderful local businesses.
Check out the full list of prizes
Team Captain Corner
Participating in Bowl for Kids Sake is a great team-building event. In addition to working together to reach a goal, your team will have the opportunity to make a difference while having fun fundraising and celebrating your success.

What you need to know
Saturday, March 2nd and 3rd
Events in Charlottetown, North Rustico, Souris, Summerside & Tignish
Your Mission: Raise money to help Island children reach their full potential!
Bowl for Kids Sake is Big Brothers Big Sisters' premier fun-raising event where people like you get together with friends, family, and co-workers to raise money and have a fun time bowling in support of Big Brother Big Sister mentoring programs on PEI.  Email us at info@bbbspei.ca to sign up your business, family or community team!
Impact: When a child has a mentor, the odds they will be emotionally, socially & physically healthy increases dramatically…and when we have healthy young people in our communities, everyone benefits. Imagine who they will become because of you!
What does raising money during Bowl for Kids Sake accomplish?
Creating a new Big/Little match costs roughly $1200. If everyone on your team raises $150, your team could raise more than half the cost of a match. Aim for the $250 level, and you could be Matchmakers!  Since money invested in BBBS programs generates an average social return on investment of $18 for every dollar invested, the money you raise will have huge impact in our community!
Want to Support a Bowl for Kids Sake participant?
To support a friend or colleague who is participating in Bowl for Kids Sake, click the button below.
Support a Participant
Participating in Bowl for Kids Sake
The Event
On Saturday, March 3rd and Sunday, March 4th, we will celebrate your fundraising achievements at a fun St Patrick's Day-themed Party which includes:
75 minutes of free bowling
Treats from Tim Hortons
Pepsi Products
Great prizes
Raise $150 (or more) and you will receive a BFKS T-shirt, a chance to win 1 of 4 special prize packages, 2 chances to win 2 tickets to anywhere Air Canada flies in North America! (includes Mexico, Hawaii, and the Caribbean) and recognition on the Wall of Fame.
Things you need to know
We provide raffle tickets, on-line fundraising support, & daily fundraising tips
There are great raise & win, costume, individual and team prizes
Everyone who raises $150 (or more) takes home a BFKS t-shirt. If you raise $250, you take home a t-shirt and a $25 Subway Restaurants or $25 Cows Gift Card ….and so on
You can earn more Air Canada ballots for every extra $50 you raise & you can double your ballots by raising money on-line
The more you raise, the more you earn! (Air Canada ballots, Raise & Win prizes)
Can't get a team together?  There are other ways to be involved
Join an existing Bowl for Kids Sake team
Volunteer during the event in Charlottetown, North Rustico or Summerside
Pledge your friends and family
Help with administrative tasks like mail outs
Make a donation on behalf of your business
Great Big Friend Sponsors
3 Points Aviation Inc.
Air Canada Foundation
Anne of Green Gables Chocolates
AquaBounty Canada
Aspin Kemp & Associates
Atlantic Aqua Farms
Atlantic Superstore Charlottetown
Atlantic Superstore Montague
Atlantic Superstore Summerside
Back Alley Music
Beach Point Processing Company
BellAliant
Benevolent Irish Society
Bluefin
Brothers 2
Business Technology Consulting Ltd.
Campbell's Concrete Ltd.
Canadian Tire Summerside
Captain Cooke's Seafood Inc.
Cavendish Farms
Ceildh in the City
Century 21 Colonial Realty Inc.
Charlottetown Airport Authority
Ching Brothers Inc.
Chucker's Trophies & Awards Ltd.
Cineplex Entertainment Summerside
Cineplex Entertainment Charlottetown
City of Charlottetown
Confederation Centre of the Arts
Cows
Delta Prince Edward by Marriott
DME Limited Partnership
Discover Kia
EastTech Engineering Consultants Inc.
Fair Isle Ford Lincoln
Ganong
Giant Tiger Summerside
H & R Block Summerside
HGS Canada Inc.
Happy Potter
Hearts and Flowers
Home Hardware Charlottetown
Ireland Meets Scotland
Kent Building Supplies Summerside
Leary's Independent Grocery
MBS Radio (Q93, CFCY, & Spud FM)
Mallett's Radiator Service Ltd.
Maritime Electric
Mermaid Marine Products
Murphy's Pharmacies Community Centre
Murphy's Pharmacies
Newcap Radio (Ocean 100 & Hot 105.5)
Next Level Cookie
Nimbus Publishing
No Frills
Northumberland Ferries Ltd.
O'Leary Farmers Co-op Association
Our Family Traditions
PEI Bag Company
PEI Credit Unions
PEI Museum and Heritage Foundation
PEI Mutual Insurance Company
Peakes & McInnis Ltd.
Pepsi Bottling Group
Phillips Auto Sales Ltd.
Precision Mechanical Inc.
Premier Island Homes
Prince Edward Aqua Farms Inc.
Prince Edward Island Potato Board
Riverdale Cidery
ServiceMaster of PEI
Simpson Aqua Ventures Ltd.
Sobeys
Stantec Consulting Ltd.
Staples Charlottetown
Stewart McKelvey
Summerside Toyota
TD Canada Trust
The College of Piping and Celtic Performing Arts of Canada
The Great George
The Great Victorian
The Guardian
The Insurance Company of Prince Edward Island and Atlantic Adjusting and Appraisals Ltd
The Journal Pioneer
The Preserve Company
The Trailside Music Café & Inn
Tip Er Back
Township Chevrolet Buick GMC Ltd.
Twin Shores Camping Area
Uncle Mike's Bar & Grill
West Royalty Superstore
Wilson Fuel Company Ltd.
Wood Islands Lighthouse