Help us Raise $2500
Giving Tuesday was created with a simple idea: a day to encourage people to do good. Your gift will have a transformative effect on young lives and when we have healthy young people in our communities, everyone benefits.
Donate by Mail
Make a donation by mailing a cheque to:
Big Brothers Big Sisters of Prince Edward Island
2 St Peters Road
Charlottetown, PE C1A 5N2
The Great Big Giving Tuesday $45 for the 45th Campaign
Big Brothers Big Sisters of Prince Edward Island made our first Big Brother/Little Brother match in November of 1975.  With the help of our mentors and supporters like you, we have been igniting the power and potential of Island youth ever since.  In 2020, mentoring is more important than ever!
Over the last 45 years, our mentoring programs have activated the Power of Three by engaging the family, our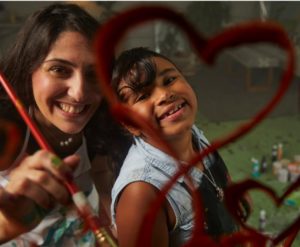 organization, and the mentor to help young people who face adversity reach their full potential.  Mentors challenge growth, provide support, expand possibilities, and empower youth to succeed.
This year has brought new challenges.  The children and families we serve are being heavily impacted by Covid-19.  Our mentors, staff and partners have been responding by staying connected, protecting kids' mental health and family wellness, and supporting educational engagement.  With the support of our community, we have been working to adapt our group and school-based programs.
Our work could not be more urgent, but we need your help!  This Giving Tuesday, we invite you to donate $45 for our 45th.
In addition to helping us celebrate a big anniversary, your donation will ensure that we can continue to enable life-changing mentoring relationships.
Be the spark that ignites their potential – it will be the greatest gift you give this year!