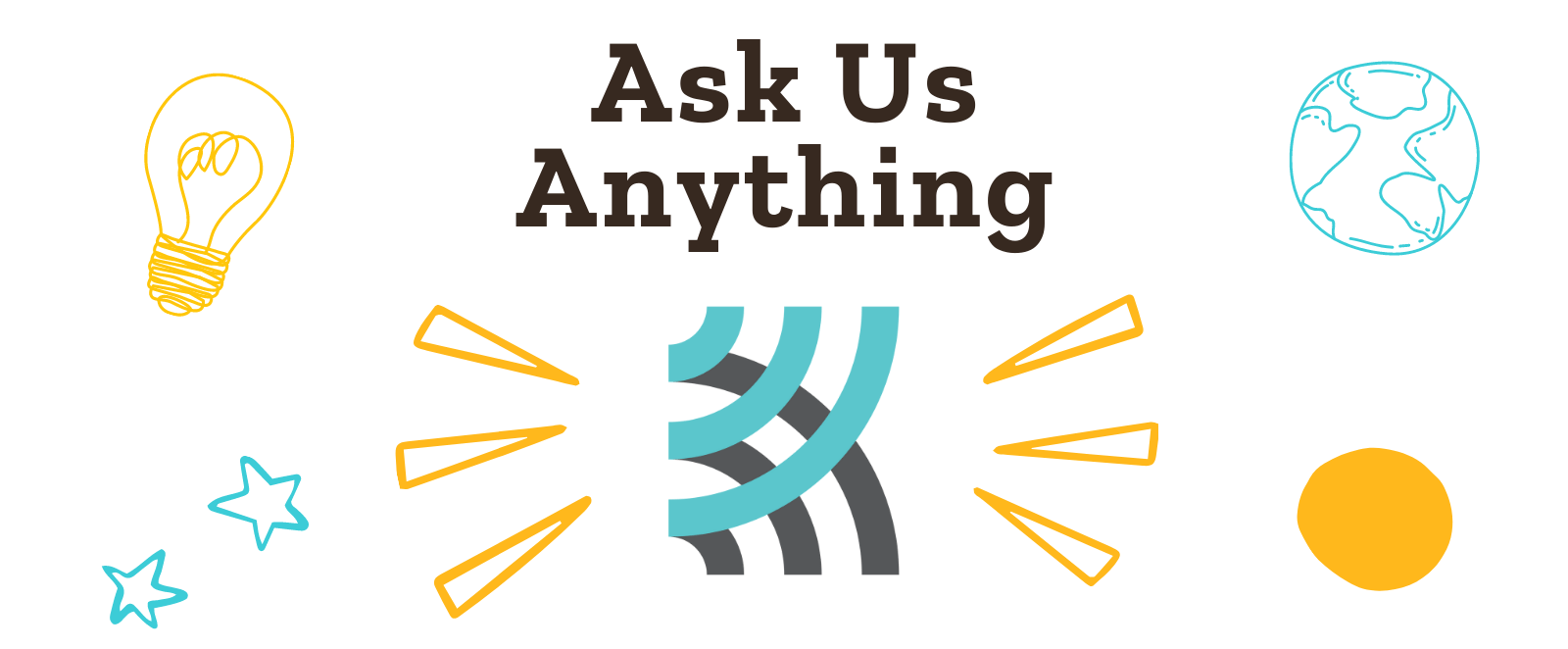 Volunteer
We are looking for Big Brothers, Big Sisters, Big Couples & In-School Mentors right across Prince Edward Island. You can volunteer by filling out our short application on-line!
I want to be a mentor
Ask Us a Question
Have you had a question that's kept you from volunteering? Here's your chance to get all your questions about being a mentor answered! Just fill in the form and we'll tell you everything you want to know!
I want to know....
Make a Donation
We believe that all children have the right to thrive, no matter what challenges they may be facing. This giving season, help a child thrive - make a donation today!
I want to make a donation
This Giving Tuesday, Ask Us Anything!
Mark your calendars! On Giving Tuesday, we'll be answering everything you've ever wanted to know about becoming a Mentor with Big Brothers Big Sisters.
We know that the idea of becoming a Big Brother, Big Sister, Big Couple or In-School Mentor can sometimes feel a little daunting – especially if you feel like you don't have all the information you need. In our experience, if one person wants to know something, there are a lot more people who want to know the same thing….so let's make it easy & fun to find out the stuff you want to know!
We will be collecting your questions leading into and on Giving Tuesday and posting answers on all of our socials (Facebook, Twitter, Instagram, LinkedIn, & Youtube) & this webpage (below) and we'll be hosting our very first Facebook Live at 12:15 pm.  Anyone who fills out the form will also receive the information they are looking for in an email.
Remember – there's no such thing as a stupid question! And your question could earn you a prize….everyone who asks a question will have a chance to win a cool BBBSPEI Swag Prize Pack!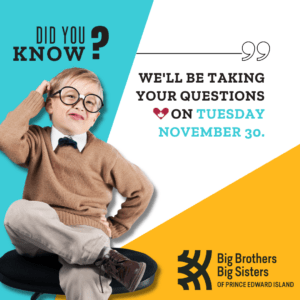 Here are some questions we've already been asked
Q. If I want to be a Big, do I have to come to your office for my interview & child safety training?
A. No, if you can't come to the Charlottetown or Summerside office, our Mentoring Coordinators will come and meet you in your community
Q. Is there an age limit for mentoring?
A. You have to be 18 or older (unless you are a Teen Mentor) and we have no upper age limit – in, fact, we've had some mentors who are over the age of 80
Q. What sort of time commitment is needed to be a Big Brother, Big Sister or Big Couple?
A. We ask that you spend 2 to 4 hours with your Little twice a month
Hopefully, at the end of Giving Tuesday, more people will be ready to volunteer because we have children waiting for Mentors right across PEI.
So ask away!!
Ask Us Anything Discussion About Mentoring