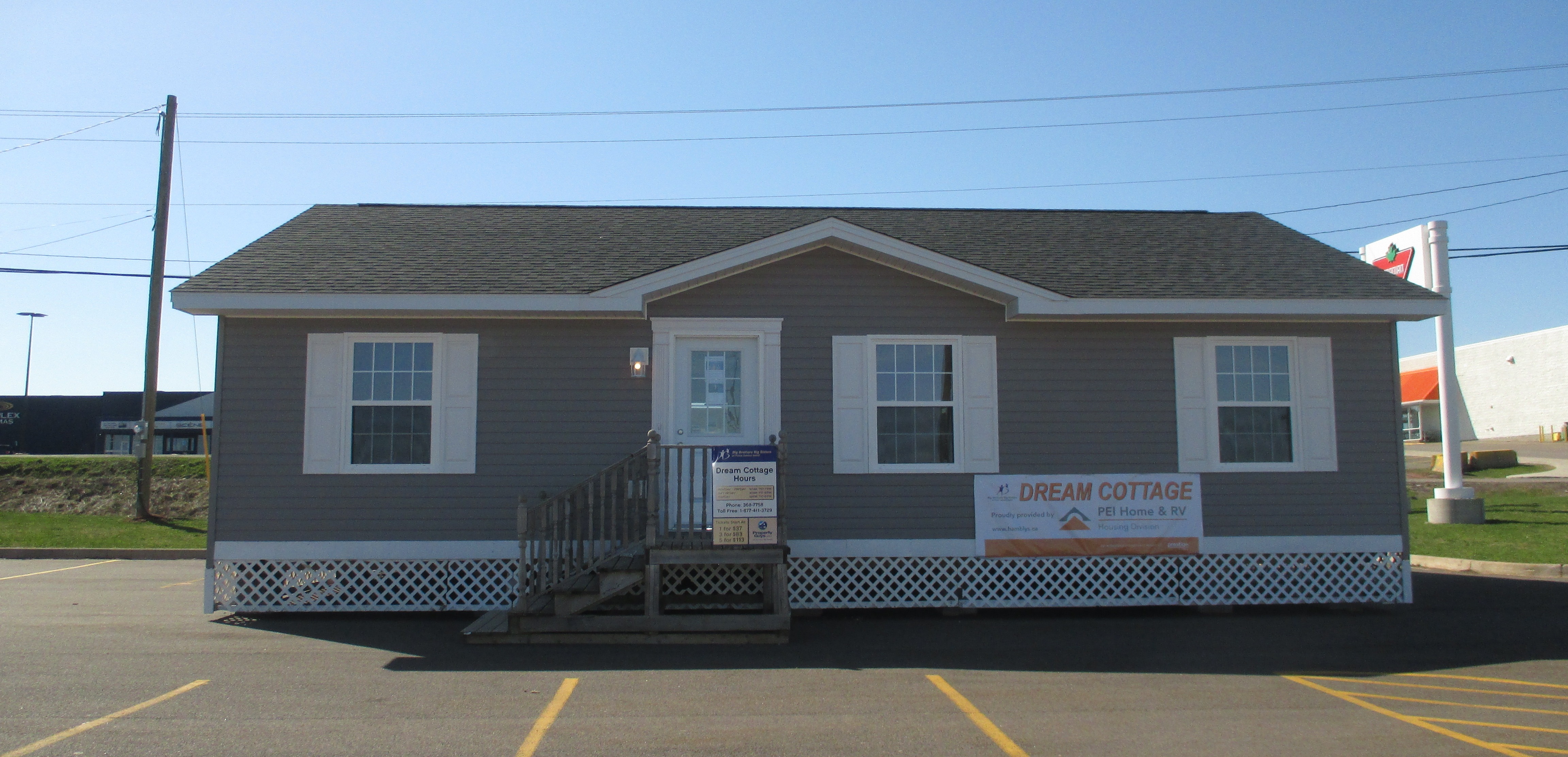 Past Cottage Winners
Since the Dream Cottage campaign began, we have given away 24 Dream Cottages. Over the years, winners have taken their cottages all over Prince Edward Island.
Our winner's list
How to Get Tickets
To Get Tickets By Phone:
Call Toll-Free 1-877-411-DRAW (3729)
Call 1-902-368-7758

Dream Cottage Hours:
Mo – Fr: 10 am – 7 pm
Sat: 10 am – 6 pm
Sun: 12 pm – 6 pm
Things you need to know
There are a lot of Dream Cottage campaign details that you might be interested in - like our ticket security procedures, rules and regulations, and frequently asked questions.
Learn More
Congratulations Will & Marie MacPhail, our Dream Cottage Winners!
Put a Cottage in Your Future and Help a Child Now!
Win the cottage of your dreams or $70,000
(Ticket must have a furniture tag for the $70,000 option)
For twenty-four years, the Dream Cottage Campaign has been one of Big Brothers Big Sisters PEI's largest fundraisers. We are celebrating our Silver Anniversary with a special new design which includes an open plan living room/dining room/kitchen with cathedral ceiling, a 6-foot kitchen island, and a Continental CB30 Propane Fireplace donated by Kenmac Energy, which has a mantle provided by Markan Woodmillers.
By supporting the Dream Cottage, you help ensure that we can provide high quality mentoring programs. Funds raised will help us recruit and screen volunteers, professionally support our matches, run programs like Kids N' Kops, host events for our Big/Little matches, and provide materials for In-School & Teen Mentors.
Impact: Imagine a world where youth are reminded that they can be anything they can dream of.  Your support can help create that world! Imagine who they will become because of you.
Download a copy of the 2018 Dream Cottage brochure
Take a look at the 2018 Dream Cottage Floor plan
See more photos on the Property Guys Website
How to Buy tickets:
At the Dream Cottage, located in the Charlottetown Canadian Tire parking lot.  Open: 10-7 Mo-Fr, 10-6 Sat, and 12-6 Sun (Opening May 2nd)
By phone –  1-877-411-DRAW (3729) or 902-368-7758
At Wilson Fuel Esso Stations – You can buy single tickets at the Montague, Stratford, Belvedere, Queens Arm, Borden, Reads Corner, Water Street, Granville Street and Richmond Esso Stations
Early Bird Draws
(Buy your tickets on or before the close of the cottage on deadline day and win!)
May 23rd – $7500 won by Nicole Kelly

June 20th – Silver Anniversary Prizes including:
$2500 Gift Card to the business of your choice sponsored by Desjardin Financial Security & Invesco won by Marlene Gotell
Overnight Accommodations in a Seaside Room at the West Point Lighthouse won by Erin McLeod
1 Night Stay in an oTENTik in Cavendish Campground, Prince Edward Island National Park won by Brian McKenna
20 lbs of lobster sponsored by Cornwall Auto & Tire won by Rita Corrigan
$100 Colour Blind Boutique Gift Certificate won by Peggy Kilbride
1 of 2 PEI Provincial Park Weekend Camping Passes won by Josephine Jackson & John Lawrence
July 18th – Summer Fun Prizes including:
Pelican Maxim Kayak Prize Package from the Charlottetown Canadian Tire won by Frederick G. Smith
Pair of Cloggeroo – The Island Folk Festival Weekend Passes and a $20 Merchandise Voucher won by Judy Burrows
One Night Stay for 2 at the Delta Prince Edward won by Roger Cole
Lobster Expedition & Dinner for 2 from Top Notch Lobster Tours won by Joanne Mayhew
2 Cottage Chairs from Leading Edge Homes won by Randy De Roche
$100 Colour Blind Boutique Gift Certificate won by Thane Livingstone
August 23rd –  WestJet Gift-of-Flight Voucher – One roundtrip flight for two guests to any regularly scheduled WestJet destination won by Stacey MacRae
For a full list of our winners, go to our Winners Enews Page.
| | |
| --- | --- |
| Ticket Package | Cost |
| | |
| Single Ticket | $37 |
| Furniture Tag | $5 |
| Additional Appliance Tag | $3 |
| Total | $45 |
| | |
| Book of Three Tickets | $83 |
| Furniture Tag | $10 |
| Additional Appliance Tag | $7 |
| Total | $100 |
| | |
| Book of Five Tickets | $113 |
| Furniture Tag | $15 |
| Additional Appliance Tag | $12 |
| Total | $140 |
Please note: You must have the Furniture Tag for the $70,000 cash option
Furniture tag: includes fridge, stove, & furniture on display in the cottage. Ticket must have a furniture tag for the $70,000 option
Additional Appliances tag: $3000 to purchase your washer, dryer, & dishwasher
Draw Date: On or before Friday, September 7th, 2018
Last Day to buy tickets: Thursday, September 6th
Product & Service Sponsors
ADL
bar 1911
Brandsource Hambly's Home Furnishing
Canadian Tire, Charlottetown
Dairy Queen
Davids Teas
Flower Buds
Foodland
Freak Lunchbox
Ken's Island Fries
Kenmac Energy
Kwik Kopy Design & Print Centre
Markan Woodmillers
PEI Home & RV Centre
PropertyGuys.com
Provincial Alarm
Rawsome Juice Bar
Subway Restaurants
Technomedia
Wilson Fuel Esso Stations
Prize Sponsors
Butcher & Butcher
Canadian Tire Charlottetown
Cat Walk Boutique
Cloggeroo – The Island Folk Festival
Cocoon Wellness Spa
Colour Blind Boutique
Cornwall Auto & Tire
Davids Teas
Delta Prince Edward
C. Garth Sanderson, Desjardins Financial Security
Charles A. Reid, Desjardins Financial Security
Prize Sponsors
Invesco
Leading Edge Homes
Lori`s Beauty Salon
Maritime Madness General Store
PEI Provincial Parks
Parks Canada
Rawsome Juice Bar
Staples
Top Notch Lobster Tours
West Point Lighthouse Inn & Museum
WestJet
Media Sponsors
MBS Radio (CFCY, Q93, and Spud FM)
Newcap Radio (Ocean & Hot 105.5)
The Guardian
The Journal Pioneer