The Christmas party is something our Bigs and Littles look forward to each year.  Covid-19 has changed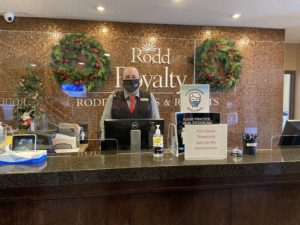 the way we do things, but because of the help of some wonderful supporters, it didn't keep us from an important tradition.
We can't thank the staff & management of the Rodd Royalty enough! Right from the start, they had a safety plan in place that made everyone feel comfortable. Our guests were welcomed to their beautifully decorated space and were treated to a yummy turkey lunch which included all the trimmings and a chocolate lava cake served with whipped cream and gummy bears.
One of the best ways we know to get into the holiday season is to listen to Mark Haines performing Christmas carols. We might not be able to sing along, but we all loved listening to him perform all of our favorites.  A big thank you goes to Mark for spending time making the holiday season merry and bright!
During lunch we had a chance to thank our hardworking Big Brothers, Big Sisters and Big Couples with some gifts and awards.  We can't thank them enough for igniting the power and potential of their Littles!  We always love having the chance to spend time with our Bigs & Littles – it's wonderful to see them interacting together as there ar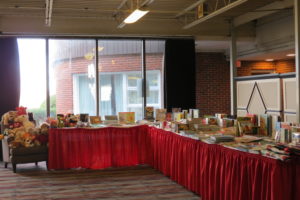 e so many great relationships that have developed over the years.
Each of our Little Brothers and Little Sisters had a chance to visit the book table to pick out books provided by the Indigo Love of Reading Foundation Community Response Grant.  Thanks to the staff of Indigo Charlottetown and Coles Summerside, there were wonderful books for a wide age range and variety of interests.
Before getting a Holiday photo taken with their Big, our Littles were also able choose a stuffed animal provided by Scraps for Life.  They sent such a great selection, everyone was able to find a new friend to take home!  On their ways out, each Little received a treat bag.
We can't thank the staff & management of the Rodd Royalty, Mark Haines, the Indigo Love of Reading Foundation and Scraps for Life enough.  It meant so much to be able to celebrate the season together this year.