In December, we were invited to be one of the three charities making presentations to Guys Who Give a $hit. The opportunity to talk to such a large group of socially-minded leaders isn't an opportunity that comes up very often, so we were excited to be asked!
A $10,000 donation to any charity is life-changing and it's such a vote of confidence in the work we do.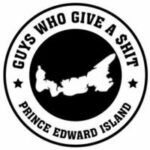 When Len and Larry arrived to surprise us with a cheque, Myron Yates, our Executive Director, was the only person in the office. The day before, we had made the difficult decision to postpone our winter fundraiser and staff had begun to work from home.  Although we wish we could have had an office full of staff to thank them, the timing of their donation couldn't have been better and it helped turn around a tough start to the year.
Our work could not be more urgent – mentoring is an essential service we must continue to provide to Island youth! The $10,000 donated by the Guys Who Give a $hit will help provide life-changing mentoring relationships that ignite the power and potential of more young people.
To ensure the safety of their members, the meeting was held online, so we sent a video presentation.  If you've ever wanted to know more about BBBSPEI, check out our short presentation – it outlines who we are, what we do, our dreams for the future and what we need right now to continue to grow as we move into the next stage of the pandemic. Welcome to our Ted…..I mean Guys Who Give a $hit Talk!