Mark your calendars!  The Big Giveback is coming up on Friday, August 13th (10-2) and Saturday, August 14th (2-4)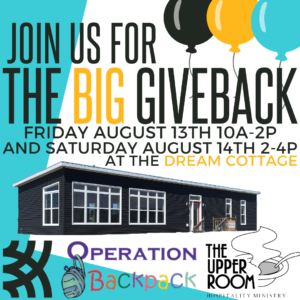 at the Dream Cottage.
Even though we had 1500 extra tickets this year, the Dream Cottage sold out in 59 days! We received such amazing support from the community that we want to celebrate by giving back.
Although the Back to School period is exciting for many, it is also stressful for some PEI families.  We are going to be working with Operation Backpack and the Upper Room Hospitality Ministry Food Bank, to ensure that all Island students are ready to go back to school!
This year is Operation Backpack's 9th year collecting backpacks and school supplies for families who need them.  Last year, they collected 518 – let's help them collect even more!  In addition to backpacks of all sizes and grades (K-12), they are also looking for a wide variety of school supplies from Hilroy scribblers to pens to hand sanitizer; please see the full list below.
Food security is an issue on PEI for 1 in 5 children on PEI.  The school breakfast and lunch programs provide families with support but there are still gaps. We are partnering with the Upper Room Hospitality Ministry Food Bank to fill their shelves with breakfast, lunch and snack items like cereal, granola bars and juice boxes; again please see the full list of needs below.
We are going to be celebrating the generosity of Islanders with some great prizes & treats. Drop by the Dream Cottage with a donation and you'll receive a bottle of COWS Raspberry Cordial (while supplies last) & you'll have a chance to win some great prizes including:
1 of 2

Day at the Beach Prizes

– BBBSPEI Beach Bag, 4 Bottles of Raspberry Cordial from COWS Inc. & 92 Family Beach Cup Set (Travel Edition) from EasternBids Auctions
1 of 4

Go Back to School In-Style Prizes

– $50 Vogue Optical & a $25 Caren About Your Hair Gift Card
1 of 2

$50 Staples Gift Card
To add to the fun, Adam Ramsay from CFCY & Q93 will be broadcasting from the Cottage on Friday (August 13th), Margot Postma & her dancers will be teaching line dancing in the parking lot at 10:30, we will be offering tours and answering any questions you might have about volunteering too.
Let's "cram the cottage" with as much Back to School supplies as possible to ensure that every kid starts the year with what they need to succeed!
For more info: Call 902-569-KIDS or email info@bbbspei.ca