Thanks to the support of some pretty special people, we are able to provide a wonderful Christmas Party for our Bigs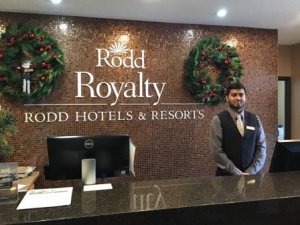 & Littles each year.
Our friends at the Rodd Royalty hosted our Christmas party for our Bigs & Littles again this year.  We would like to thank the staff & management for providing everything we needed – a craft room, space for our Photo Booth, a yummy turkey lunch and space for a visit from Santa.
Our party begins downstairs with a chance for our matches to get their photo taken in our Holiday Photo booth.  They then proceed to the craft room where they can make wreathes and decorations.  Karen, our in-house crafter, puts together 3 different ornaments for our matches to make.  For those with a sweet tooth, there was acookie decorating table.  There are also game tables available, because our Bigs and Littles have different interests.
Before everyone heads upstairs for lunch, the Littles have an opportunity to pick some books from the wonderful selection provided by First Book Canada.  This year, lunch included a traditional turkey meal and a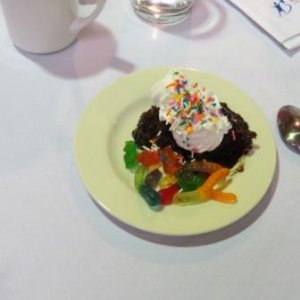 dessert designed with kids in mind – molten lava cakes with gummy worms, whipped cream and candy.  During lunch, matches can work together on Christmas puzzles.
After giving out our Mentor Awards, our guests were entertained by the wonderful Mark Haines.  He has a way of  explaining the stories behind the songs that is memorable and he can even get folks to sing with him.  The party ends with a visit from jolly, old Saint Nick….or in our case, our very own Santa, Irwin Jenkins who gives out candy to the children and gifts to our hard working Bigs.
We want to thank Rodd Royalty, Mark Haines, Irwin Jenkins, Kenny & Tracey Singleton, and First Book Canada for providing such a great experience for our Littles!  Please support the people who support us!!