Heidi from Earthform Landscape Professionals and Darlene from Canadian Tire Charlottetown dropped into the office to draw the winning tickets for our Summer Fun Early Bird Draws.  We want to congratulate:
Kent Smith of Hunter River, winner of the Bloc Valentia Fire Pit (installation not included) from Earthform Landscape Professionals
Ian Thibeau of Charlottetown, winner of the 3 Piece CANVAS Davenport Rope Chat Set & 10 ft. Offset Aluminum Umbrella from Canadian Tire, Charlottetown
Errol Creery of North Rustico, winner of the Guided Seadoo Tour for 2-4 people from Explore More Watersports
Kaitlin Tourout of Warren Grove, winner of the Round of Golf for 4 people at Avondale Golf Course
Danny Campbell of Summerside, winner of the 1 Hour Outdoor Photo Session from Hummingbird House Productions
Kim Nicholson of Charlottetown, winner of the $250 Ladner's Source for Sports Gift Card
Kelly Harper of Alberton, winner of the $100 Giant Tiger Gift Card and a BBBSPEI Beach Bag
What's Up Next at the Dream Cottage:
We are completely sold out!  We can't thank everyone enough for supporting us, we are deeply touched by the level of support we have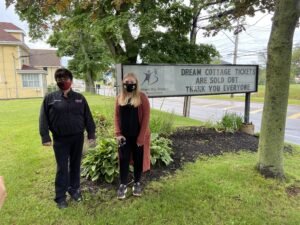 received.  Everyone who has a ticket, has the chance to win some awesome Cottage Living Prizes including:
$2500 Gift Card to the business of your choice sponsored by Desjardins Financial Security Independent Network
Watersports Beach Party including Flyboard, Hoverboard & Efoil Surfboards from Explore More Watersports
1 Year Membership at the Spa Total Fitness Centre
$500 towards a set of new tires from Charlottetown Toyota
$200 Gift Card & 2 Decorative Mirrors from Sherwood Drug Mart
1 hour Spa Treatment from Serenity Salon & a Box of Chocolates from Anne of Green Gables Chocolates
Upcoming Open House at the Dream Cottage
Mark your calendars!  We are hosting an Open House at the Dream Cottage on Friday, August 13th (10-2) and Saturday, August 14th (2-4) at the Dream Cottage.  We received so much amazing support from the community, so we want to celebrate by giving back.  We are going to be working with Operation Backpack and the Upper Room Food Bank, to ensure that all Island students are ready to go back to school!  Drop by with a donation and you'll have a chance to win some great prizes.