Congratulations Gordon Craig, winner of the 2020 Dream Cottage!
On Thursday, June 20th at 2 pm, the Dream Cottage draw was held at the Dream Cottage, located in the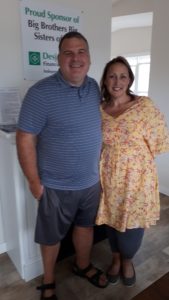 Charlottetown Canadian Tire parking lot.  Gordon Craig of Spring Valley, our big winner, had the Furniture and Additional Appliance Tags on his ticket, which makes him our sole winner.  We are so excited – Gordon and Tawnia Craig dropped by the Dream Cottage on the weekend to see what they had won.
The Craigs have won this year's wonderful Prestige Home designed by Rob at PEI Home & RV, with beautiful propane fireplace from Kenmac Energy and mantel from Mantels by Design/Russell Kerr Woodworking.  Since Gordon had both tags, he will receive the beach-inspired furniture chosen by Julie at Hambly's BrandSource Home Furnishings, which includes the stove and fridge, and $3000 to buy the washer, dryer & dishwasher.  When it is time to move the Dream Cottage to its new home, he will also receive $10,000 to help with the moving costs.  With the furniture tag, Gordon could choose to take $70,000 instead of the furnished cottage and he would also receive $3000 Additional Appliance Prize for a total of $73,000.
Congratulations Gordon and thank you to everyone who made this year's Dream Cottage campaign such a huge success.  We can't thank you enough for your support!!