Announcing the WestJet Gift-of-Flight winner is such a fun way to start the Gold Cup weekend!  Tim McRoberts, our board chair,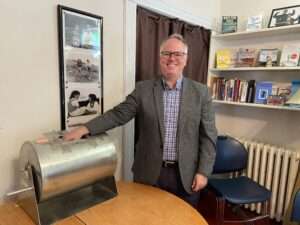 drew our final Early Bird Prize winner.  Congratulations to Corrie Tesselaar, our WestJet Gift-of-Flight winner!  She has won one roundtrip flight for two guests to any regularly scheduled and marketed WestJet destination*!  Wonder where she will go….and who she will take.
WHAT'S UP NEXT AT THE DREAM COTTAGE: THE DREAM COTTAGE DRAW
There isn't much time left!  If you haven't got your tickets yet, don't wait too long.  The deadline to buy tickets is Thursday, September 8th at 6 pm (unless we sell out early).  On Friday, September 9th at 2 pm, someone is going to win the beautiful 29th Dream Cottage.  Don't miss you chance to win!!
THE DREAM COTTAGE
Have you been out to see the Dream Cottage yet?  This elegant 2 bedroom, 2 bathroom Prestige Home has 1024 square feet of living space. Rob at PEI Home & RV Centre has included some really cool new features including an atrium roof design, front entry with deacon's bench & tons of closet space, primary bedroom that includes a wall of walk-in closets, ensuite bathroom & piano window, and beautiful exterior finishes.
The beautiful cottage design is enhanced by furniture and brushed steel appliances (in the kitchen) chosen by Julie from Hambly's BrandSoure Home Furnishings. There is even a washer & dryer in the laundry closet.  You have to see the beautiful 29th Dream Cottage for yourself – drop by when we open 7 days a week!
Check out our Dream Cottage website for more info and photos of the Dream Cottage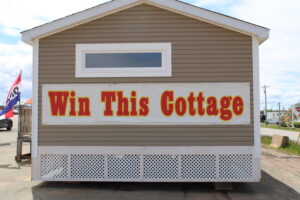 TO GET YOUR TICKETS
Visit the Dream Cottage: Located in the Royalty Crossing parking lot, across from the Charlottetown Canadian Tire. Open Monday through Friday from 10 to 6 pm and Sundays from 12 to 5 pm
Phone: 902-368-7758 or 1-877-411-3729
Once again, we would like to congratulate Corrie Tesselaar, our final Early Bird Winner!  Good luck to everyone who has tickets….on Friday, September 8th, one of you is going to win the Dream Cottage!!
FOR MORE INFORMATION:
To find out more about the Dream Cottage campaign, check out the 2022 Dream Cottage Webpage
To see all of our 2022 Prize Winners so far, check out our Winner's Blog Post
To find out more about what your ticket purchase supports, check out our What We Do page