We are having an Open House at the Dream Cottage on Friday, July 9th from 10 am to 4!  It's going to be a great chance to:
Learn more about volunteering: if you've always wanted to know more about being a Mentor, now's your chance!  Drop by and have a chat with a mentor or staff member and get all your questions answered.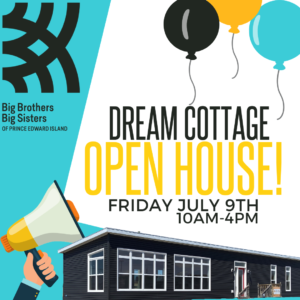 Take a tour: if you didn't get a chance to see the Dream Cottage before we sold out, come see what it looks like inside!
See your support in action: Find out more about our programs & how your support ignites the potential of Island youth.
Win cool stuff: Everyone who drops by will have a chance to win:
A Backyard BBQ Prize: An Organic Veggie Delivery Veggie Box & a $25 Mikes Island Market Gift Card
 1 of 3 Beach Day Prizes including a BBBSPEI Beach Bag, 4 Raspberry Cordials from Cows Inc, Cow Chips from Anne of Green Gables Chocolates, & a 92 Family Beach Cup Set (Travel Edition) from EasternBids Auctions!
Start the weekend with a sweet treat: We'll be giving out bags of Cows Chips from Anne of Green Gables Chocolates!
On Friday, plan to drop by the Open House at the Dream Cottage, located in the Charlottetown Mall parking lot.