Congratulations Maureen Cassivi, winner of the 2021 Dream Cottage!
On Friday, August 27th at 2 pm, the Dream Cottage draw was held at the Dream Cottage, located in the  Charlottetown Mall parking lot.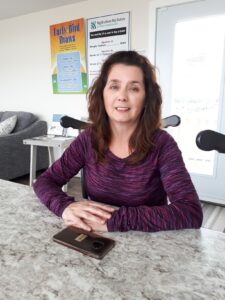 After some speeches thanking our sponsors & volunteers, Constable Coffin drew the winning ticket. Congratulations to Maureen Cassivi of North Enmore, our winner of the 2021 Dream Cottage!
Maureen has won this year's wonderful Prestige Home designed by Rob at PEI Home & RV Centre, with 12 enormous oversized windows, cathedral ceilings, a walk-in closet and the most beautiful kitchen we have ever had!  The beautiful design is enhanced by the modern farmhouse inspired furniture and stainless steel appliances (in the kitchen) chosen by Julie from Hambly's BrandSoure Home Furnishings. There is even a washer & dryer in the laundry closet. Since we did away with the tags this year, Maureen will choose between the fully furnished Dream Cottage with appliances or the $75,000 Cash Option.
Update: Maureen has decided to keep the Dream Cottage
Congratulations Maureen and thank you to everyone who made this year's Dream Cottage campaign such a huge success.  We can't thank you enough for your support!!
For more information, check out the Dream Cottage webpage.