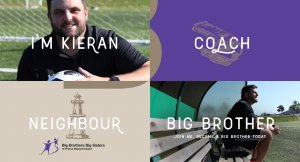 For the past year, the Brandvan co-founders Keith Jones and Vickie Hsieh have been driving across Canada or working in their home base of Toronto, donating their services to 13 charities, and we were lucky enough to be one of them! They stopped in PEI during their Canada-wide tour to help us build a "I'm a neighbour, I'm a Big Brother" campaign that focuses on our own volunteers in their favourite places to spend time (the park, the farm, the soccer pitch).
We're excited to be working with Brandvan because we face some challenges recruiting enough men to match the boys on our waiting list. There seem to be some mis-perceptions about what type of people would make great mentors.  Keith, Vickie, and their team have a fresh perspective and approach that we hope will encourage people to think about mentoring in a different way, to see themselves as a potential mentor for a child who is waiting.
We make our matches based on personality and interests, so we need all kinds of mentors.  The campaign shows three different Big Brothers – a post secondary student, a working professional and a retiree.  Keith says that he thinks people underestimate themselves — a college student, a mechanic, a farmer — it's not about your job, or your paycheque — it's about sharing  your interests and a couple hours a week to give a kid a better shot at their future."
He goes on to say "Brandvan chose BBBS as their PEI charity stop because the organization is literally making the future of Canada better.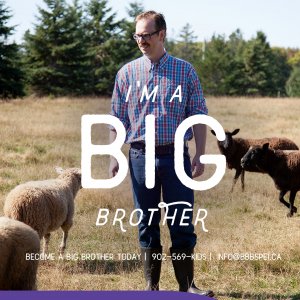 Stats show positive role models will change the trajectory of a youth's life." Along with free design and marketing work, Brandvan also brought along Italic Press to cover all of the printing costs.
We had so much fun during the photo shoot and we have learned so much from Keith, Vickie and their colleagues.  We can't thank them enough for this amazing campagin!
Brandvan is a grass roots initiative that connects creative professionals with some of Canada's most impactful and inspiring charities & non-profits. The program matches designers, writers, marketers, illustrators, photographers, architects, developers and other industry experts to provide free creative services to organizations that are marketing Canada better. To find out more, visit their website.