Mayor Brown and Council laid a challenge to the Town of Stratford in hopes of raising funds for Big Brothers Big Sisters of Prince Edward Island at Bowl for Kids Sake 2020.  Charlottetown Mayor Brown and council and Stratford Deputy Mayor Clow and council will be lacing up come Sunday, March 8, in Charlottetown at The Alley for this annual fundraiser for Big Brothers Big Sisters of PEI.
"The City of Charlottetown is proud to launch a friendly challenge with the Town of Stratford in support of Big Brothers, Big Sisters fundraising event Bowl for Kids Sake" said Charlottetown Mayor Philip Brown. "We look forward to meeting Deputy Mayor Clow and other members of Stratford Town Council on the lanes in March!"
Bowl for Kids Sake 2020 has been running for more than twenty five years and typically raises around $125,000. The fundraiser is only one of two events per year the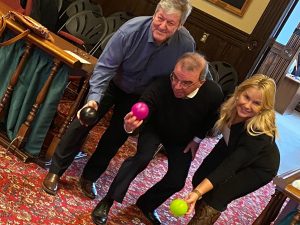 organization coordinates and is essential in the funding of operations.
Myron Yates, Chief Executive Officer, states, "Big Brothers Big Sisters appreciates the tremendous effort of our volunteers, supporters and members of the business community for helping to make Bowl for Kids Sake 2020 fun for everyone."
The organization offers Traditional Big Brother, Big Sister or Big Couple matches, In-School mentoring, and specialized group programming in schools for over 450 children and youth. There are also upwards of 330 youth mentors who practice leadership skills through In-School Mentoring, providing role modeling and support.
Town of Stratford Deputy Mayor Clow explains.  "Bowl for Kids Sake is a great fundraiser and we are up for the challenge of Mayor Brown and council. May the best team win but Mayor Brown you're going down."
Bowl for Kids Sake 2020 rolls out Saturday, March 7 and Sunday, March 8 in Charlottetown, North Rustico, Summerside, and Tignish. It is anticipated that 230 teams, equaling 1200 Islanders participating and supporting Big Brothers Big Sisters of PEI.
Update: Although it was extremely close,  the Town of Stratford edged out the Town of Cornwall and the City of Charlottetown.